Origins (1984)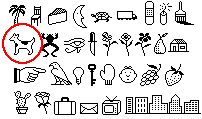 Susan Kare's original Clarus in Cairo font
a that moment it's just a dog
She first appears in 1984, in the design of Susan Kare's Cairo font for the first Macintosh.
Susan Kare has join Apple after her friend Andy Hertzfed called her in 1982, Macintosh team need a designer, she became "Macintosh Artist" and design user interface, icons and fonts.
At that time, she had not been named Clarus nor was she recognised as a Dogcow, she was just part of a dingbats.
The Cairo font included a little dog (z glyph) with a brilliant future ahead of it... Cairo font was the first "dingbats" font in computer history, a font that do not represents any letter but just graphics.
Cairo font have been distributed with every Mac until System 7.1.
Susan Kare also created many other legendary images for Mac System : the MacPaint icon, some well known Finder icons such as the wastebasket, the default folder and the "Happy Mac", and all the original Macintosh fonts (Chicago, New York, Cairo, Los Angeles and San Francisco).
More about Susan Kare and the Cairo font in MacOS can be at Folklore a site dedicated to Mac inside creation history :
Dogcow go printing (1986)







Clarus capabilities in printer page set-up dialog
flips, invert, precision alignment and color
Later the Printing Developer Team at Apple was looking for an image to show, in a very simple way, the different printing options. At that time the LaserWriter printer (first postcript printer) was ready but need a nice software to drive it.
Annette Wagner was in charge of the User Experience design, she works on the dialog for LaserWriter driver to visually show the different printing options bring for the first time : Invert, Flip Horizontal, Flip Vertical and Precision Alignment, involving a 4% reduction.
Annette try many figures to show that, one was the z glyph from Cairo font : a little dog. And this was this little dog that work best.
The marketing team valid this choice and Annette Wagner redesigned the Cairo original dog to a larger version ("more bovine" version). Original Cairo was 26x24 pixels, the new working space require a 41x32 pixels (the page preview in LaserWriter option dialog).
In fact two design were made, one standard (41x32 pixels) and a smaller one for "precise alignment" option. (34x26 pixels).
Then Dogcow could start it's sucessfull story...
To see those representation, browse "Apple : Historical pictures" collection, including Annette Wagner sketch.
Dogcow becomes a star (1987-1988)
On October 15th 1987, the animal's species was first identified as a Dogcow, and she first cried "Moof!" to the world under the direction of Mark Harlan and Scott Zimmerman. At that time the Apple team has appropriated her image for their internal messages.
Others claim that the word "Dogcow" was first uttered by Ginger Jernigan during an internal meeting at Apple.
Whatever the case may be, the Dogcow made her first public appearance during the 1988 WWDC (WorldWide Developer Conference) on badges worn at the "Debugging Labs" sessions. CEO John Sculley also wore this badge during his keynote speech. Note that on those badge, Clarus is oriented to the right, she used to be oriented to left in printer dialog or Cairo original font.
The DTS team made several different "Moof!" badges, stickers, bags and mouse pads. All these articles were made in small numbers and not distributed outside Apple.
Later other manufacters produce Dogcow goodies.
To see those items, browse "Apple : Official objects" collection.
Clarus : The legendary TechNote #31 (1989)
In April 1989 Mark Harlan, with the help of Mark Johnson, wrote TechNote #31 as an April Fools' Day joke for Apple's developer community. It "clarified" certain matters regarding the Dogcow. Mark also revealed her real name: Clarus (a private joke about an internal Apple project named Claris that was terribly late at that time). It was the most detailed document about Clarus at that time and an official one.
The TechNote #31, distributed to developers in the monthly bulletin, turned the Dogcow into a real celebrity. Later it was included on the developer CD "Dave and Phil's Excellent CD". Since then, TechNote 31 has been excised and replaced with a more mundane one on "GestaltWaitNextEvent" fonction.
An incomprehensible phrase can be found as a sub-heading in the original note: "Aanal, Enacku Naiimadu, Kaanali!". Many people have tried to decipher this, but without success. Several years later, Mark Harlan solved the mystery (develop magazine), when he explained it was simply a phonetic transcription of the phrase "But I can't see the Dogcow !" in the Tamil dialect, which Sriram Subramanian had said to Mark over the phone. And, as the note goes on to explain ; Arabic systems don't include Clarus in their printer drivers - they get a horse instead! (we have not found any picture).
From this time, Clarus also began to be used as the icon for sample applications on Developer CDs (redesigned to fit 32x32 pixels). Later, Clarus became a spinning cursor in the DiskCopy 6 application. She was also the involuntary heroine of Timothy Carroll's MoofWars - a demonstration program showing how to use the DrawSprockets library. Clarus still appears regularly in various TechNotes and sample softwares.
Discover all its appearance in Apple labs, browse "Apple : Pictures" and "Apple : Software" collections.
Clarus and QuickTime (1991)
In 1991, Apple Labs works hard on a big project : QuickTime (bringing multimedia to Macintosh).
The team has hardwork and re-appropriate Clarus mascot that will feature in many of their first demo movies.
By this time, Clarus was known outside of Apple labs. Microsoft began using a sort of Clarus clone into PowerPoint (1992-1997). Rumors says that Microsoft used her in an advertisement! (1992), we found nothing about that...
Discover all its appearance in QuickTime labs, browse "Apple : Multimedia" collection.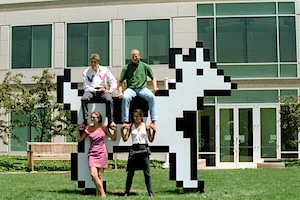 in Apple Icon Garden , with friends
Clarus enter reality (1993)
In 1993, Apple and Cupertino township installed 2D sculptures, representing celebrated icons from original MacOS, in the garden of the new Apple Campus (Cupertino CA). The original Dogcow from Cairo font designed by Susan Kare was here... And many took picture of them with the Dogcow.
For more details about the garden, browse "Apple Campus Icon Garden" special page.
Clarus history (1994)
By demand Mark Harlan wrote 2 articles for develop magazine, explaining many things about Clarus history inside Apple Inc. This time it was serious articles with solid reference, but also miss lot of things (Annette Wagner was not included for example).
See below for a list and copy of all original documents from Apple Inc.
Clarus disappear (1998-2004)
1998, Apple began a new age and slowly Clarus disappear...
The sculptures were removed from the garden in 1998, officially to be restored. They never reappear... Anywhere...
But rumours abound and some suggest the "old iconography" is not in accordance with the new "Think Different" mood.
Clarus could also be found on Apple's web site, on the index page for Developers' TechNotes. But unfortunally she was also removed in July 1999.
In 1999, Apple kept only the official Clarus web page : "Nest of the Dogcattle" (a page maintain by Brian Bechtel that keep original Clarus material created in Apple). It includes the original TechNote #31, the story of the Dogcow by Mark Harlan and useful links.
In 2000, Apple released it's next generation OS : MacOS X. But Clarus has disappeared from the print set-up dialog ! She has been replaced by a boring grey silhouet.
In 2004, Apple redesign (again) the developer section of www.apple.com. "A Nest of Dogcattle" disappear somewhere in february. The last know URL doesn't exist anymore and Apple search engine give very few entry for Clarus, Dogcow or Moof!...
Apple also removed Original TechNotes and Develop articles.