Collection : Outside Apple, Digital Arts
Clarus become muse for many artists, find here Digital Arts Collection.
We have a separate collection for Street Arts.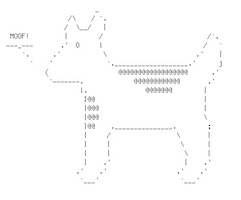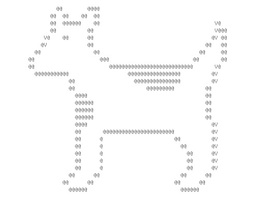 Ascii
Author: Pierre-Alain Dorange - 2000
Variations with Clarus and ascii-art.
ASCII art was an old waste time task, it consist to build a picture using only characters from standard acsii table.
Nowdays, developers had internet to waste their time.

Reservoir Dogcow Graphics
Author: Adam Betts - 2006
Source : adambetts (blog)
Adam Betts explain on his blog the process to create the graphics for "Reservoir Dogcow" a World Of Warcraft guild (do not exist anymore).
Of course the graphics envolves Clarus...
Check other pictures for the Reservoir site.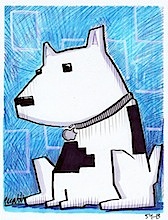 Apple Dogcow
Author: Len Peralta - 2007
Source : jawboneradio (flickr)
Len has the challenge to draw a cryptozoo creature(Monster by MailArt, theme cryptozoology), he choose a variation around the Dogcow...
There is a nice video where you can see Len drawing the Dogcow (youtube).
Very nice rendering with a touch of pixels.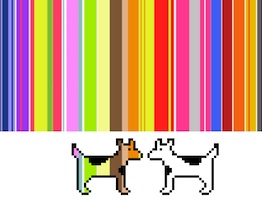 Variations
Author: Paul Smith - 2007
Source : bathroom blog
Starting from a picture of a dog in front of a colorful wall, Paul creates digital variations envolving Clarus.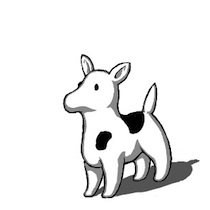 moof
Author: C. Juarros - 2009
Source : thelaaarch (devianart)
And yes i'm a macfag, and a proud one at that.
Very cute interpretation.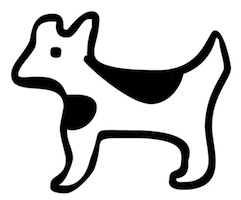 High_res
Author: FanaticBillyBob - 2009
Anyone looking for a High-Res image of Clarus? Here ya go!
Source : @gabevidal (Devian Art)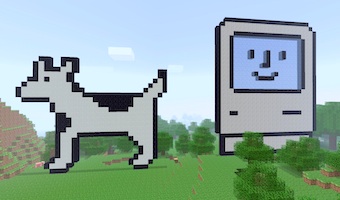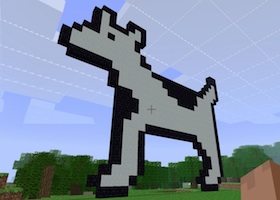 Clarus and Macintosh (Minecraft)
Author: Ryan Eisworth - 2011
Source : Ryan Eisworth (flickr)
Minecraft was an online game with a pixel block design.
Of course Clarus made its way into this universe..
Ryan has crafted Clarus with Snow and Obsidian.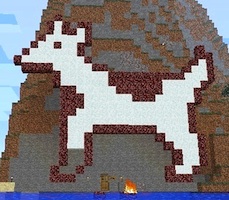 Clarus the dogcow, Minecraft
Author: Jellyfish Green - 2011
Source : JellyFishGreen (devianart)
Another Clarus in Minecraft.
Jellyfish made her in Survival Mode with Snow and Brimstone.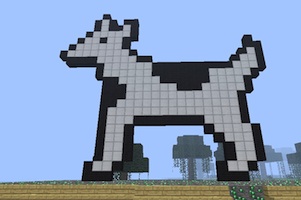 Moof block art (Minecraft)
Author: Ken147 - 2012
Source : Ken147 (minecraftforum.net)
Another Clarus in Minecraft.
Ken147 is a mac fan, he build many classic icon into MineCraft.
Clarus here was build from original Cairo design, with visible pixels.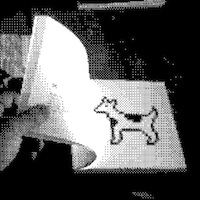 1bit
Author: Gabriel Benveniste - 2012
Gabriel made a picture of a book about Susan Kare with a very old digital camera : pxl2000 (1bit camera).
Source : @gabevidal (instagram)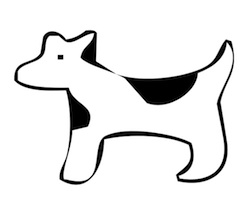 A moof for youf: free bezier path
Author: Erica Sadun - april 9, 2013
Source : ericasadun
Erica create a Clarus made with a Bezier path.
Clarus leave pixel world for vector world.
The Bezier path definition is available
here
(for Objective-C)